BUNK JOHNSON HOMEPAGE
---
The complete Bunk Johnson Discography available.
Click here to visit.
This Bunk Johnson Homepage offers you a biography plus a complete and indexed discography for this famous trumpet player, who lived from 1879 to 1949. Although an active and well known trumpet player during the early days of jazz, he became really famous all over the world during the New-Orleans-Revival in the 40's, when he made many recordings.
You can also visit the one and only Bunk Johnson Picture Gallery.
This page is not intended to be a complete biography of Bunk Johnson. It will give some information about this famous trumpet player. Because the story of Bunk Johnson is one of the most extraordinary in the history of jazz, it is worthwhile to describe his life and his musical carreer in some detail.
Bunk Johnson is most probably born on 27th December 1889. The exact year of his birth is not clear because it is believed that for some reason he choose to add 10 years to his age and stated to have been born in1879. Although jazz-historians made efforts to find evidence of his actual birthday, there is no real proof. There are strong indications however that is was 1889.
He died on 7th July 1949. The period he lived covers the birth of jazz, the growth in variety and the revival of early New Orleans jazz in the 1940s. He played with the men that are considered responsible for the rise of the music, build a considerable reputation and then fell into obscurity. His rediscovery in the revival era brought him a second career and made him the most influential and most controversial figure of this time.
After his death on july 7th 1949 there was an obituary published in The New York Times. It is interesting to read.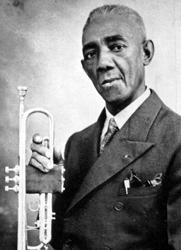 Highlights
One of the first bands Bunk played with, was the Superior Orchestra. It seems he joined the band in 1906 or 1907.
On the photo of the band, taken in 1910, you can see him on the back row. The other musicians shown are: Buddy Johnson (trombone), 'Big Eye' Louis Nelson (clarinet), Billy Marrero (bouble bass), Richard Payne (guitar), Peter Bocage (violin) and Walter Brundy (drums).
While he was a member of the Superior Orchestra, he played occasionally with the famous Eagle Band. Later, he became a member of this band.
In 1914 Bunk left New Orleans. He travelled a lot and played in many bands.
In 1931 Evan Thomas recruited some musicians for his famous Black Eagles Band. One of them was George Lewis, who played an important role in Bunk's second carreer in the forties. The band started preparations for a tour of the South-west and Mexico. Before the tour began properly, a danceparty was organised in a small town named Rayne. There was a large crowd present, for the Black Eagles were very popular and they had been out of action for two years. It all ended in a fight in which Evan Thomas was killed and most of the band's instruments were damaged. Only George Lewis managed to save his clarinet, but Bunk lost both his trumpet and his teeth. It was the end of his carreer, for the time being.
He moved to New Iberia and tried to make a living in different jobs. Music was only a minor interest.
Jazz was developping during the years and by the end of the thirties 'swing' was in. However, many people remembered the traditional jazz and were interested in the bachground of it. In 1938 Frederic Ramsey jr. and Charles Edward Smith did research for a book on the subject and involved Bill Russell, a well-known collector of early jazz records. They interviewed many of the musicians of the early days and many of them remembered Bunk Johnson. At last they found him and he indicated that he still was able to play, given two problems solved: trumpet and teeth. Leonard Bechet, Sidneys brother, was a dentist and solved the problem 'teeth'. The members of the Lu Watters band in San Fransisco, who were enthousiastically re-creating the old styles of jazz, collected money and thus solved the problem 'trumpet'. The results were more than anybody had expected. Bunk played like he did in the old days.
In 1942 Bill Russell and Eugene Williams started making records. They recruited a band, consisting of Bunk Johnson (trumpet), George Lewis (clarinet), Jim Robinson (trombone), Walter Decou (piano),Lawrence Marrero (banjo), Austin Young (bass) and Ernest Rogers (drums). Later that year Russell and Williams recorded Bunk's band in San Jacinto Hall (New Orleans). It was the start of a successful period, with recording sessions in San Fransisco with Lu Watters' Yerba Buena Jazz Band, again at San Jacinto Hall and in New York. Most successful was his time at the Stuyvesant Casino in New York where 'Bunk Johnson and his New Orleans Band' was on contract for more than a year. You can hear 'I can't escape from you', recorded for a live audience at the Stuyvesant Casino on January 6th 1946 by downloading this .wav (287kb) file.
In the Picture Gallery you will find pictures of Bunk's band taken at performances at Jacinto Hall and the Stuyvesant Casino. You can also see pictures of bandmembers.
This picture shows Bunk with Louis Armstrong.
In the spring of 1945 Bunk recorded also with a specially-formed brass band. Beside of the regular band-members this brassband consisted of: Kid Shots Madison (second trumpet), Adolphe Alexander and Isidore Barbarin (baritone horn) and Joseph 'Red' Clark (tuba).
Bunk returned to New Iberia in 1948. He was in bad health and died the 7th of july 1949.
See the chronology of Bunk's life, based on the statement that he was born in 1879.
Discography
See our unique complete Bunk Johnson Discography.
More information
Two books were published about the life of Bunk.
Christopher Hillman wrote a nice book "Bunk Johnson" in 1988. ISBN 0-946771-39-1 (UK), ISBN 0-87663-685-7 (USA).
In 2001 a very good documented book about Bunk Johnson was published by Mike Hazeldine & Berry Martyn: "Bunk Johnson, Song Of The Wanderer". ISBN 0-9638 890-7-9.
You can read a review of the book by P O Karlström as published in the spring 2001 issue of the "Bunk Johnson Information", the official newsletter of the Swedish Bunk Johnson Society.
Links to information about this fine musician:
Miscelaneous
Ken Colyer, one of the best traditional jazz musicians in Europe, was highly influenced by Bunk Johnson. Look at the Unofficial Ken Colyer Homepage.
---

This page is far from complete. Please send comments and suggestions by email
---
Go to: